"These disturbing new actions to force healthcare providers to participate in the destruction of human life cry out for an immediate federal remedy," Dolan and Lori write.  "Even those who disagree on the issue of abortion should be able to respect those who wish not to participate in abortion."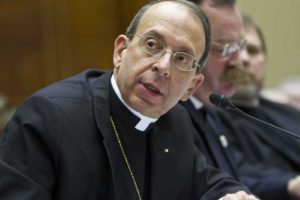 Cardinal Timothy Dolan of New York and Archbishop William Lori of Baltimore have written members of Congress to urge passage of the "Conscience Protection Act of 2016," citing recent cases in California, New York and Washington in which faith-based facilities have faced orders to provide abortions. www.usccb.org/issues-and-action
In their July 7 letter, Dolan and Lori argue that three recent events have underlined the importance of passing the new legislation.
First, they cite a June 21 decision by the U.S. Department of Health and Human Services that California's Department of Managed Health Care has the authority to compel all health plans under its jurisdiction to cover elective abortions, including late-term abortions.
Second, Dolan and Lori point to the fact that New York's Department of Financial Services has adopted a similar stance to California's. Effective January 1, 2016, New York requires small group employers – including faith-based nonprofits and Christian businesses – to cover abortions.
Third, they cite a June 21 ruling by Skagit County Superior Court in Washington state holding that public hospitals must do abortions if they also offer maternity care.